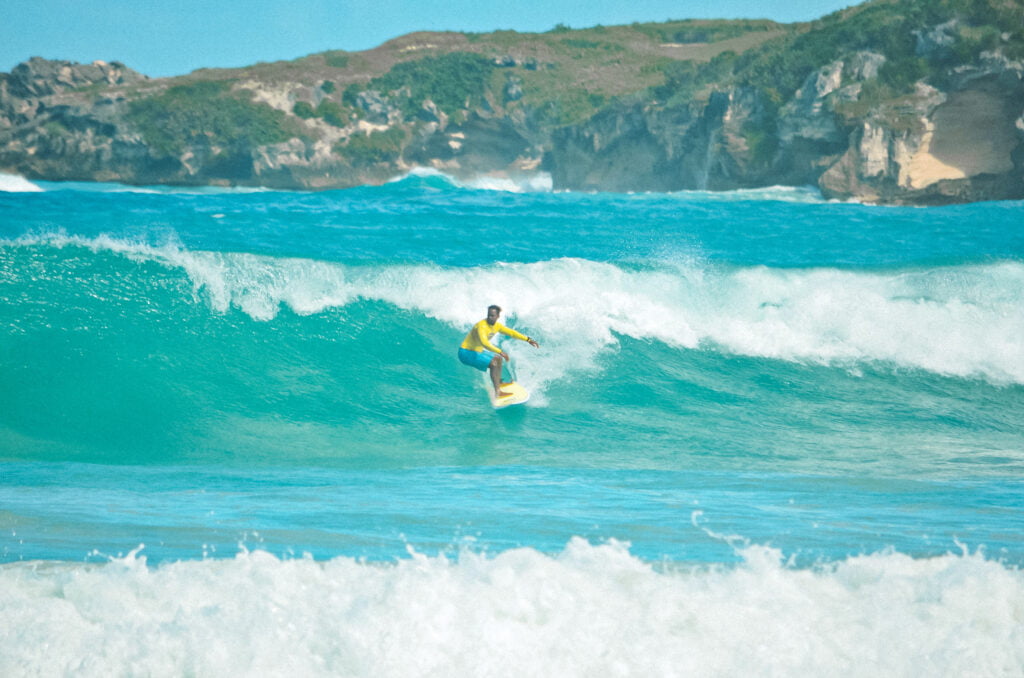 How are the waves on Macao Beach during the year?
Here's the answer that you have been looking for…You're welcome! 😉
So you have discovered our little gem of Macao Beach, just 25 minutes away from most hotels in Punta Cana. Yey! So you are starting to plan your surf trip, or you may be going to put in a couple of days of surfing into your vacation. Awesome!!
This is what you should expect the conditions to be (somewhat) like, depending on the time of the year your will be visiting. Keep reading…
Macao Beach  is located on the North-East part of La Hispaniola. The bay faces the North, with a highland on the Eastern (right) side. The stronger swells come from the North in the winter and early spring months, more or less from December to March.
During the Winter, swells come mostly from the North, in the form of winter storms or low pressure systems. These storms are accompanied mostly by high winds and even rain. However, the right amount of wind and ground swell can cause epic conditions. Winds coming from the North above 25 km/h will normally cause very choppy and disorganized waves.
Spring months, generally during April, May and early June, there are less strong winter swells, and the wind tends to diminish, causing waves that are gentler than in the Winter, and less powerful, but still good in size (waist to head high). Swells in the Spring start coming more from the North-East or East-North-East.
Summer months like July, August and September tend to have plenty of days with small and gentle waves, these months are great for first-time surfers. However, during the summer is Hurricane Season, and when storms are in the North Atlantic region, they cause amazing swells with no wind – if the system stays far offshore. We live for those storms in the summer!
October and November, and early in December, conditions tend to be very good as well, with very little wind, but still with the presence of Tropical systems in the Atlantic, there are many days with big, powerful waves, and glassy conditions.
If you are a beginner or intermediate surfer, Macao Beach offers great and safe conditions almost every day of the year, and if you are an advanced surfer, keep an eye on the Surf Forecast to follow-up on those systems that will bring big waves and will keep your adrenaline addiction under control!
Understand that the Caribbean is very stable in terms of temperature, however winter or summer storms can cause sudden changes in the waves' size, energy and direction. Also, being a beach break, Macao's sand banks move with the tides and currents, which also affect how the waves break.
Regardless of the above, come by, take a lesson, grab a surfboard, a paddle board or a buggy board, and get in the water. I firmly believe in the saying that "A bad day surfing is always better than a good day at work".
See you at Macao!! Come by and say HOLA!!