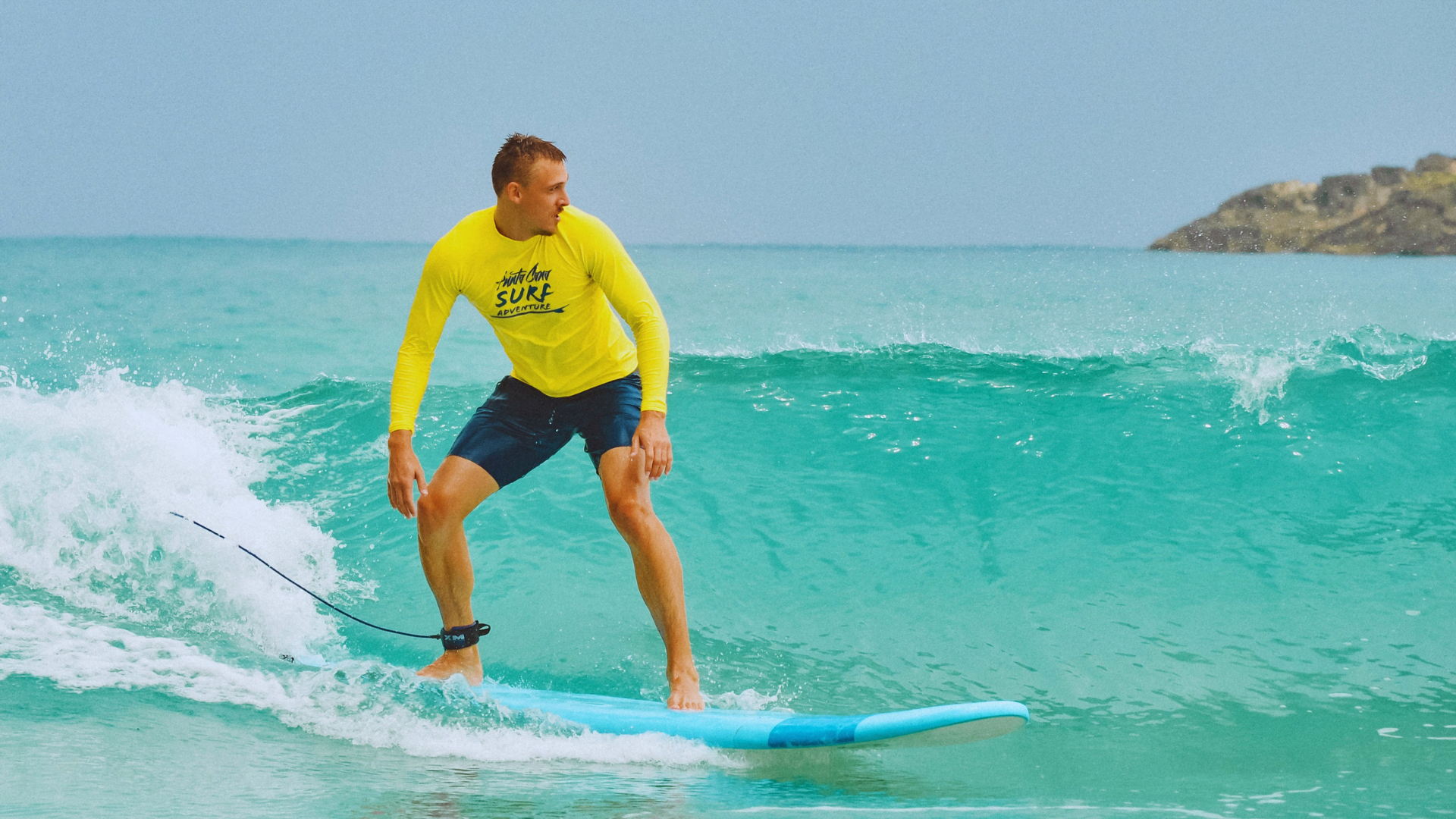 Surf Lesson
Beginner / Intermediate
You can surf in Punta Cana! Do not miss the opportunity of surfing in this amazing and easy location! Macao Beach is an uncrowded and visitor-friendly surf spot with breaks for all levels!
What's Included:
✓ Comfortable, Air Conditioned transportation to and from Macao Beach to all locations in the Punta Cana* area.
✓ Two-hour lesson that consists of  group warm-up, water-safety, dry-land theory and practice for 30 mins. Followed by 1h30m of in-water, one-on-one instruction.
✓ Coaching in English, Spanish or Russian.
✓ Use of our top-quality 50+SPF long-sleeve rashguards (also available for purchase).
✓ All necessary surf equipment (boards, leash, etc).
✓ Safe storage area for your belongings at our Surf Shack. Showers and restrooms nearby.
✓ Wifi, umbrellas and chaiselounges for non-surfing companions.
✓ Stoke, laughs and good times!
Our surfing day was the highlight of our family trip to Punta Cana! The whole family surfed and loved it, including my 6 and 8 year-olds. We had each our own instructor in the water. We felt save, and very well looked after!

~Anne, France
This is How it Goes:
This lesson starts with dry-land instruction (water safety and surfing basics) in a group setting, where everyone is  at the same level or similar.
After the theory and practice on land are completed, it's time to get in the water! Your in-water coaching will be personal! Each student is in the water with their instructor. Based on your level, the instructor will work on your individual needs for advancement.
These lessons are carried out with never more than 10 surfers. If you have a larger group, contact us for special times and prices.
Macao Beach is the absolute best place to to learn or advance your surfing!
* About transportation:
Please note that there is an extra fee ($10 – $20) for certain locations in Punta Cana, far from Macao Beach. You will be able to see the additional fee next to your location on the booking form.
You will receive the exact pick-up time and place, the evening prior to your lesson, via email or text. Normally pick-ups range between 1hr to 5 minutes before the lesson, depending on your location.
Exclusions:
✓ Souvenirs
✓ Tips
✓ Pictures and Videos
What do I need to bring?
✓ Towel
✓ High SPF Sun protection
✓ Cash for Souvenirs, Tips and Pictures (optional)